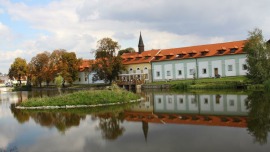 Prague out of center

→

Horní Počernice, Prague 20 •
Hotel Čertousy se nachází v Praze 9, ve východní části města. Od centra města je vzdálené asi 20 minut jízdy autobusem. Pro klienty je v hotelu zdarma k dispozici wifi připojení a parkování pro 80 automobilů. Autobusové nádraží je vzdálené 20 m od hotelu. The bus station is 20 m away.
more info